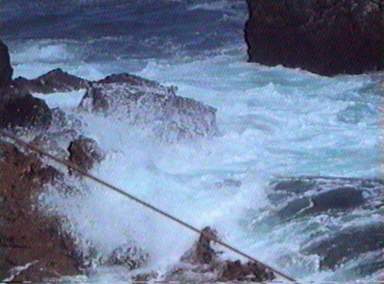 She sat alone on the beach staring at the immense expanse of the ocean...
desolate...scared...lonely....
nothing was particularly wrong in life...but nothing was particularly right either...
As random thoughts flitted through her brain...she felt a desperate urge to write something...
So she blindly penned down her thoughts...Her hands moved involuntarily...when they finally stopped, she tried to read the words...
But they were a blur...it took her several attempts before she could focus and see them clearly....they read...
It takes you away from the mundane,
Yet everything remains the same,
In its vastness, everything pales to insignificance,
Breathtakingly beautiful,
Yet inexplicably scary.
She looked at her life....full and empty at the same time....
She had intended to remember that there is always more to life than the present happenings..
and that she would continuously find new reasons to live no matter what...
But then a huge rock came crashing down camouflaged in a tidal wave...it shattered a lot of things beyond recognition...all that was left when the tide abated was DEBRIS...
then she asked...
Now how am i supposed to find SENSE and a REASON in debris????
There is a need for very many things...
the need to reemerge...the need to redeem...
the need to rationalize...the need to surmount!!
slowly though it will be...the process must begin...
Must go back to where I can recognize myself....