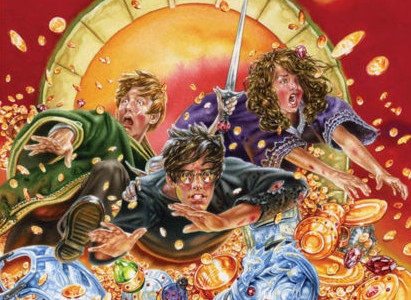 "PotterMania" seems the flavour of the season doesn't it?? Every possible place...conversations...print media..electronic media...with not an inch to spare!!
Well I have been an avid fan of the Harry Potter series form the very first book and though the frenzy had worn down considerably the fascination has certainly not.
The magical world which Rowling introduced to us 10 years ago is still seems as fantastic and intriguing to me. The characters, now so familiar who seem to have grown gradually with us over the time are endearingly familiar. And each one of us who reads these books relates at some level and to some extent with the emotions she has infused in them.
J.K.Rowling, by style is descriptive and know how to build the suspense in the plot. All her previous books have made for a good read(admittedly in varying degrees), but this book surpasses them all. I say this because all the answers she had kept tantalizingly secret have finally been revealed all the loose ends tied, and she had left so many such questions unanswered that every second page was like a revelation! It kept me gripped and flipping pages for an uninterrupted 9 and a half hours till I had devoured each one of the 607 pages!!
But for a change I shall not talk about the plot of the book or of the excellent characterization..but of what endeared it to me...
simply put...it was..
The fantastic reality of it all!!
Now i know..fictional world...but when i say reality I mean of the things she actually speaks about..the essence...
Of friendship...Of love..Of courage...Of sacrifice...Of self-righteousness...Of all the usual idealistic jargon and blah...
But with such a human touch...
Because its also..
Of weakness...Of treachery...Of jealousy...Of despair..Of making difficult choices...Of all the things real life is made of and we like not to talk of it...
In absurd ways each one can find instances they can relate with and personal demons can be faced and resolved..
Yes..obviously the last duel is dramatic and exciting and Voldemort according to me dies in an anti-climax...but Rowling stuck to the formula of " All's well that ends well"...for how could she kill Harry...after all she put him through...
The end of the book...for those who are yet unaware...the "Ninteen Years Later" lends it all a very "Ekta Kapoorish" touch..
But finally the end of a saga...
And they lived happily ever after....