"Family Matters" by Rohintan Mistry is a book I read at the recommendation of a friend, whose judgment I fortunately trust. I say fortunately because I adored his style of writing.
There is absolutely nothing climactic about the novel. Family Matters is a story about Parsi family living in modern Mumbai dealing with the day to day gravities of youth, age, death, duty and desire.
Only in his words the humdrum of daily life gets transformed. The best parts of the novel are the simple accounts of daily life breakfast time in an household, the children's jokes, family rituals etc. Here is one of those authors who does not just give you an insight into the lives of his characters but nudges you to laugh, weep, despair and live with them.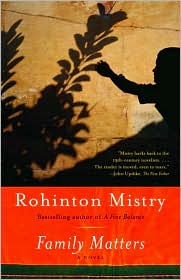 The novel opens with an account of old Nariman Choudhary's birthday party. Nariman is old and frail, constantly haunted by memories of his past. He lives in Chateau Felicity with his middle-aged step-children, Jal and Coomy. The family is visited by Nariman's daughter, Roxana, with her husband and their two young sons. It show cases the relationships in a family which though fragmented by history is bound together by mystery. The suspense of Nariman's apparently scandalous but in reality helpless and painful past is revealed through the book in bits and pieces, like random isolated pearls to collect before you can string them together. The prose slips in and out of different perspectives: sometimes we feel Nariman's pain, sometimes Roxana's concern or Jal's guilt. The novel begins with Nariman, but the final word goes to Jehangir - from the old to the young.
This novel traces the lives of many individuals and how they fit into each others life to weave a fabric that gives us the essence of life and the living, youth and its innocence and age and death.
In case you do plan to read it. I will recommend a corner with minimal intrusions for this one.